Annulment Case Sponsors
Gives advice to individuals seeking to annul a previous marriage. They help them review and organize their case so that the Church can determine whether there was a valid marriage or not.
Ofrecen consejo a individuos que buscan una anulación de su primer matrimonio. Ellos ayudan a revisar y organizar los casos para que la iglesia determine si existió o no un matrimonio valido.
Contact:  Sonia Garcia, Yazkin Guadalupe Lopez Lasses casesponsors@gmail.com
Apostles of the Word
Since 2005 this group has been promoting and strengthening the Catholic faith through free Bible classes at the parish or at home.
Desde el 2005, Este grupo ha estado promoviendo y fortaleciendo la Fe Católica mediante cursos bíblicos gratuitos en la parroquia o el hogar.
Contact: Isaias Vasquez 864-395-8045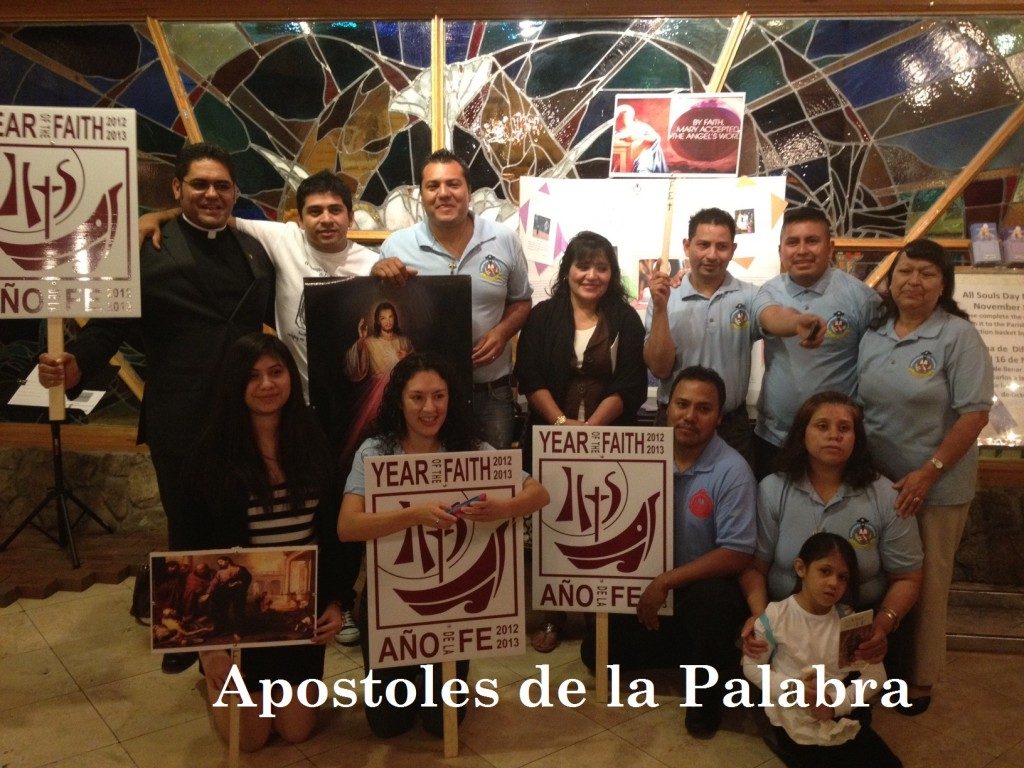 Baptismal Preparation
Prepares the Parents and Godparents of the children that need to be baptized. Also helps with the arrangements of the celebration.
Contact: Sofia Martínez 770-448-2028 Ext. 158/117 – smartinez@stpatricksga.org
Prepara a los padres y los padrinos de los que niños que necesitan ser bautizados. Además, ayudan con los arreglos necesarios para la celebración.
Contact: Deacon Jose Narvaez; deaconnarvaez@gmail.com
Bautismos para niños(as) menores de 7 años:
llame al Diácono José A. Narváez
Registraciones después de las Misas en Español los sábados y domingos.
Por favor traiga el certificado de nacimiento de su niño(a).
Christ Renews His Parish
Since 2004, it offers an annual retreat in which people can renew their faith/spirituality. The retreat is followed by a series of meetings in which different topics are covered.
Desde el 2004, Ofrece un retiro anual en el cual las personas puedes renovar su fe/espiritualidad. Luego del retiro, vienen una serie de reuniones en lo que se cubren varios tópicos.
CRSP Hombres/Men–Contact: Gerardo Banchi 678-751-9925
CRSP Mujeres/Women-Contact: Maria Sanchez 678-704-1478; angelessanchez0172@gmail.com
CRSP Adolescentes/Teens-Contact: Maribel Duran 770-572-0992; Luis Medina 678-508-8726
Confirmation Program
Prepares the teens and/or adults that need to receive the sacrament of Confirmation.
Prepara a adolescentes y adultos que necesitan recibir la confirmación.
The Confirmation preparation program is for students in the 10th grade or above.
Enrollment into the Confirmation Preparation program 2015-2016 may occur once students have satisfactorily completed one year of Religious Education. New parishioners should submit transfer records upon registration.
Students must continue to participate in the Life Teen program or Catholic High School during the school year of their Confirmation preparation.
Eligible candidates must be registered and active members of the parish who participate in weekly Sunday Liturgy.
Contact: Adolfo Traña – Director of Religious Education; 770-448-2028 ext 116; atrana@stpatricksga.org 
Cursillos
The Movement consists of proclaiming the good news of the best reality: that God, in Christ, loves us. Communicated by the best means, which is friendship towards each one, conviction, decision, and constancy./ El movimiento consiste en proclamar la mejor noticia de la mejor realidad: Dios, en Cristo, nos ama; y la comunica por los mejores medios, los cuales son la Amistad hacia otros, la convicción, la decisión y la constancia.
Escuela De La Cruz
Colaborar en y con la misma Iglesia, engendrando comunidades de apóstoles, que comuniquen el espíritu de la cruz con su vida y el testimonio, en primer lugar al orden espiritual y, en segundo lugar, al orden temporal, constituyendo sus miembros – varones laicos, Diáconos, Presbíteros y Obispos – una verdadera unidad, que los impulse mutuamente en su entrega a Cristo y a ser fermento, raíz y cimiento para que el Espíritu santo suscite apóstoles en el pueblo de Dios
Contact: Sergio Velez; 678-249-8431
Families in Christ
A ministry in which married couples spend time together talking about different topics and praying so that they help each other grow in love as a true Christian Family. Fridays 8:00-10:00 pm.
Es un ministerio en el cual las parejas casadas pasan tiempo juntas compartiendo y hablando sobre diferentes temas y orando de manera que se ayuden a crecer en amor como una verdadera familia cristiana. Viernes de 8:00-10:00 pm.
Contact: Eugenio Sanchez 404-719-1291 | Janet Veronica Alvarez 06-200-0538
Library
Offers books for people to read in the building or at home. It has over 2000 books and 35 different categories. Foreign Language books are available.
Ofrece libros para que las personas lean en la iglesia o en sus casas. Tiene más de 2000 libros y 35 categorías. Hay libros en español.
Contact: Tim Eger; 678-687-0121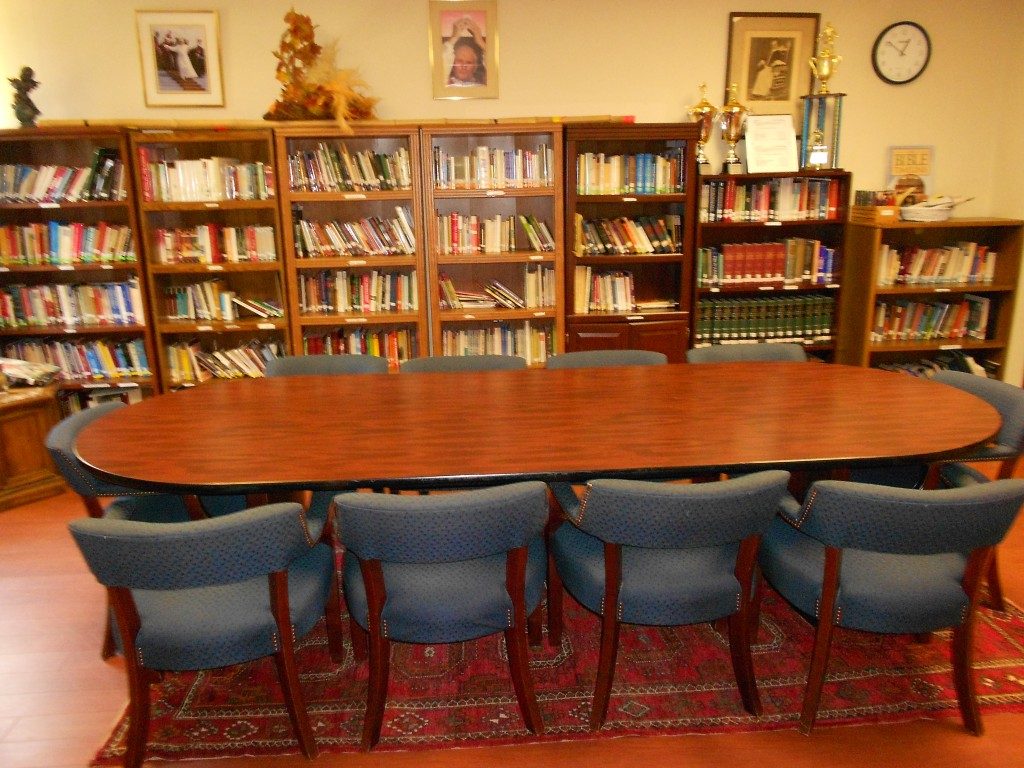 Life Teen (High School)
This is a spiritual, social and educational experience that provides teens the opportunity to grow closer to God. Different topics are discussed, having the family as a central focus.
Es una experiencia espiritual, social y educacional que proporciona a los adolescentes la oportunidad de acercarse a Dios. Se discuten diferentes tópicos centrados en la familia.
View More about Life Teen (High School) Program Here.
Contact: Adolfo Traña 770-448-2028 ext 116; atrana@stpatricksga.org
Matrimony Preparation
Provides the necessary information to assist engaged couples in preparing for their life-long vocation of marriage. It is also a time to study, review, and perhaps learn, for the first time, the truth, beauty, and joy of God's plan for marriage.
Provee la información necesaria para ayudar a las parejas en la preparación de su vocación de vida, El matrimonio. También proporciona un tiempo necesario para aprender, quizá por primera vez, la belleza y la dicha del plan divino para los esposos.
Contact: Belen and Valentín García; 770-896-2527
Quinceañeras
Se requiere que la quinceañera y sus Damas y Chambelanes atiendan a un retiro que la parroquia ofrece de todo un Sabado.
La Quinceañera debe haber recibido la Primera Comunión.
Contact: Sofia Martinez; 770-448-2028 ext: 117; smartinez@stpatricksga.org
Rite of Christian Initiation for Adults (RCIA)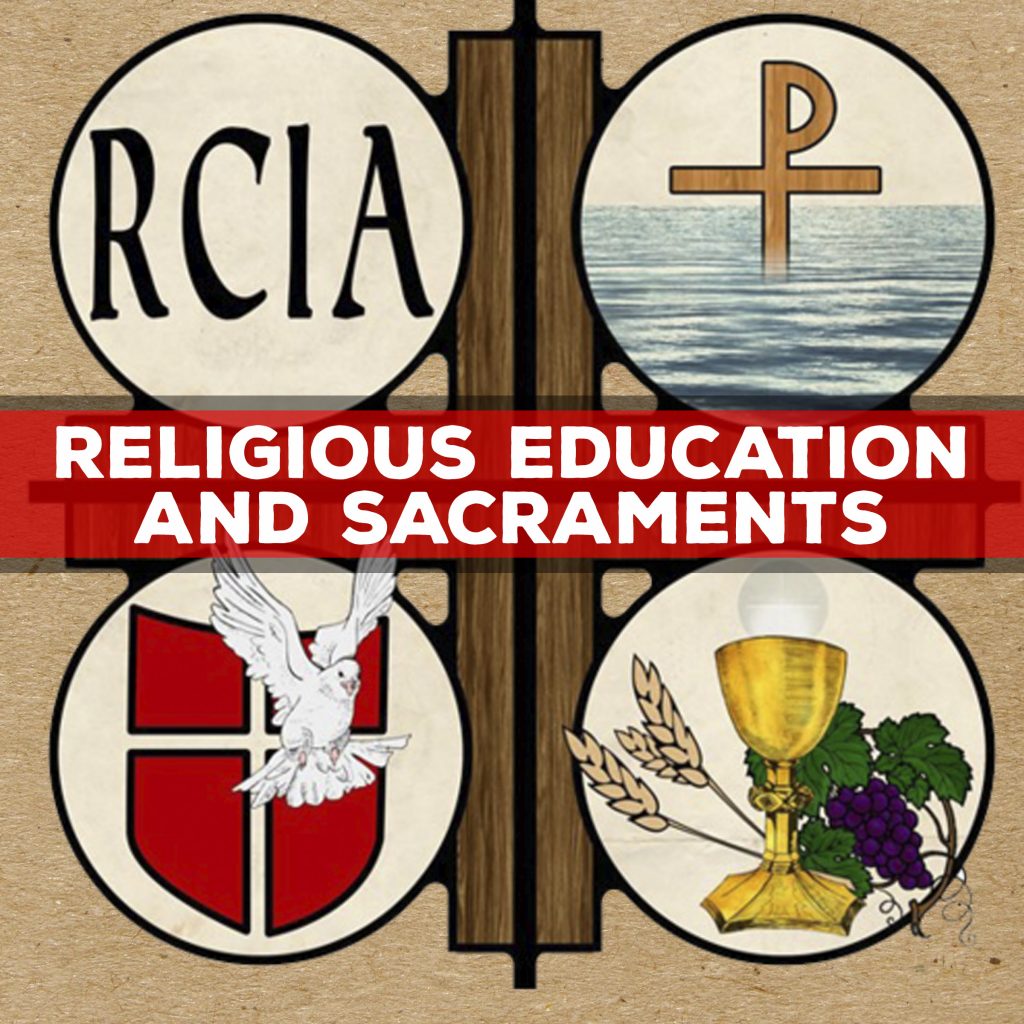 The journey that a person takes towards learning more about their faith and becoming a fully initiated/integrated member of the Catholic Church.
Find out more about RCIA here.
For R.C.I.A. Español–English Contact: Adolfo Traña 770-448-2028 ext 116, atrana@stpatricksga.org
RICA

El Rito de la Iniciación Cristiana para Adultos, R.I.C.A., es una práctica tradicional de la Iglesia para preparar a los adultos no bautizados de manera que puedan participar plenamente de la vida sacramental de la Iglesia. RICA es una "Jornada de Fe", un proceso gradual de iniciación cristiana para aquellos adultos quienes:
No han sido bautizados y quisieran ser recibidos plenamente en la Iglesia Católica a través del Bautismo.
Han sido bautizados en otra comunidad cristiana y buscan ser parte de la Iglesia Católica.
Han sido bautizados católicos como infantes, pero no han recibido los sacramentos de la Confirmación ni la Eucaristía.
Español Contacte a:  Pedro Lopez – 404-604-5003 – pedrolopez22@yahoo.com
New Life
Meets every Friday at 7:30 PM to promote and foster camaraderie among its' members while learning about the Catholic faith. The group also organizes events and social gatherings/activities where members can build long-lasting relationships.
Se reúnen los Viernes a las 7:30 PM para promover y propiciar la Amistad entre sus miembros aprenden sobre la fe católica. Se organizan eventos y reuniones sociales para los miembros.
Contact: Fernando Martinez 732-801-8718